Automate Timesheet to Invoice in Few Easy Steps
With several touchpoints in Temp Staffing Business, keeping track of each activity
and ensuring those are done accurately can be a tedious task.
With BillMyTask, all touchpoints between the Back Office, Employees/ Contractors,
the Clients and Accounting Team are integrated in single application.
Based on our experience in managing back office process for Temp Staffing Agencies, we exactly know where the most of issues steam from and one of the main areas is how you create masters. We have following master modules which help you in managing upstream processes efficiently:
Client Masters- Map Shift Timings, Rates and Employees Client wise.
Employee Master- Map Pay Rates and Update Personal Information of Employee
Rate Master- Map rates by Shift, Holidays, etc
Shift Master- Create shifts by amount payable automatically.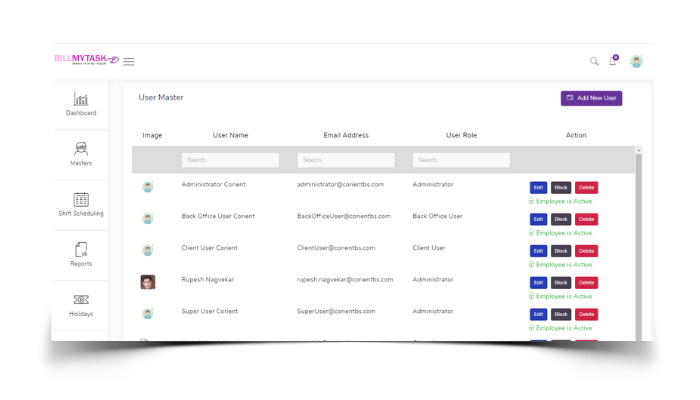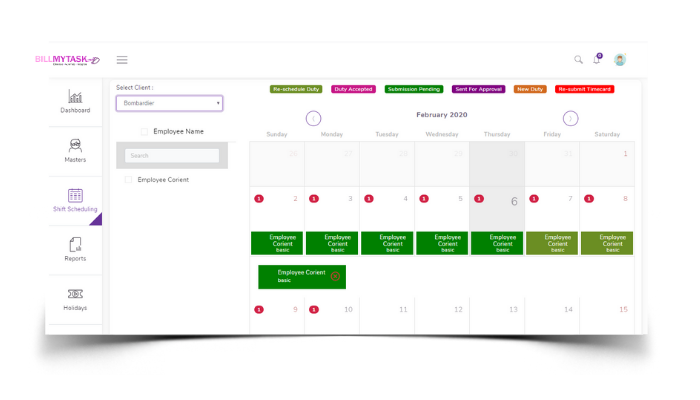 BillMyTask offers several options for scheduling.
Schedule by shifts – jobs
You can allow employees to accept or reject a job or shift.
If an employees rejects you can plan and assign it to other team members
Employees are notified about shift assignment through mobile app
Employees are notified about start of shift a few hours in advance
BillMyTask helps you completely digitize your timesheet. It eliminates both hard and soft copies of timesheets. Employees and contractors simply enter time on the BillMyTask App and rest of the process is digital.
Track start and end times, total hours, days
Automatic overtime calculation
Single or multiple-stage approval processes
Support for paper-based signatures
Support for weekly or monthly timesheets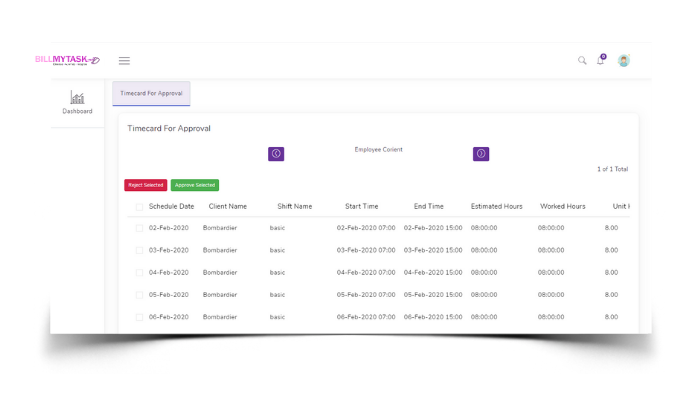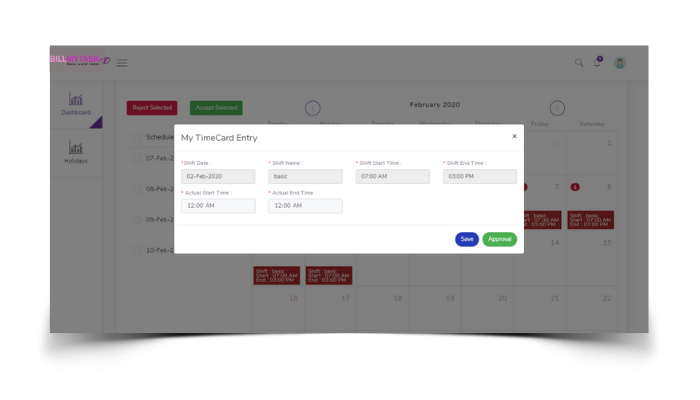 Once a timesheet is submitted by the employee or contractor, there are multiple options to approve it.
Clients can approve timesheets through App or Email or Web Portal or sign it on pdf generated over app
They can reject a timesheet with reasons
Option to select multiple timesheets simultaneously.
If your clients submit time logs, your back office user can be the approver making it easy and simple for clients.
Once timesheets are approved by your clients, you can process timesheets in multiple ways:
You can automate processing so that payroll reports and client invoices are generated automatically
You can review and approve them for control and accuracy.
You can also follow up with employees/ contractors who have not submitted timesheets
You can follow up with clients who have not approved timesheets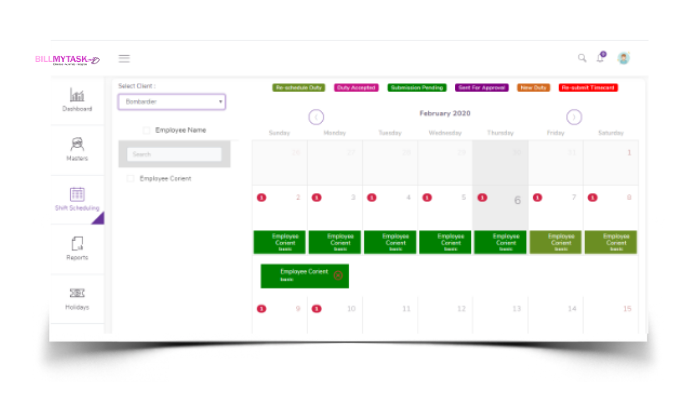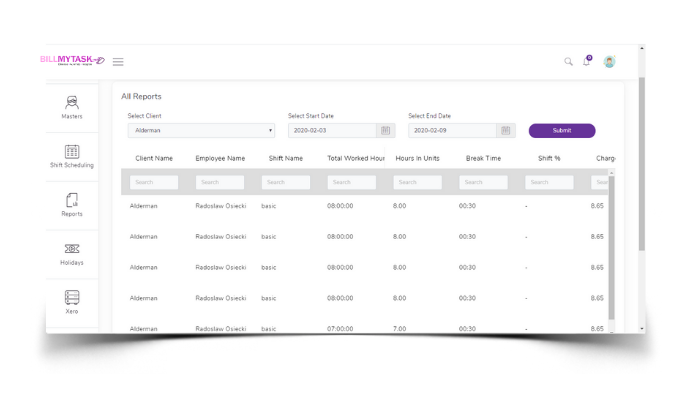 Once timesheets are approved and processed, you do not need to create invoices for your contractors or for umbrella companies.
Pay details are calculated automatically
Purchase invoices are directly posted to Xero
You can make payment directly to contractors or umbrella companies based on self bills generated without waiting for the contractors invoice
After timesheets are processed, invoices are generated automatically and are integrated with Xero.
Invoices are generated automatically
Invoices can be pushed to Xero after they are approved.
You can customise invoice templates and send invoices to clients based on their requirements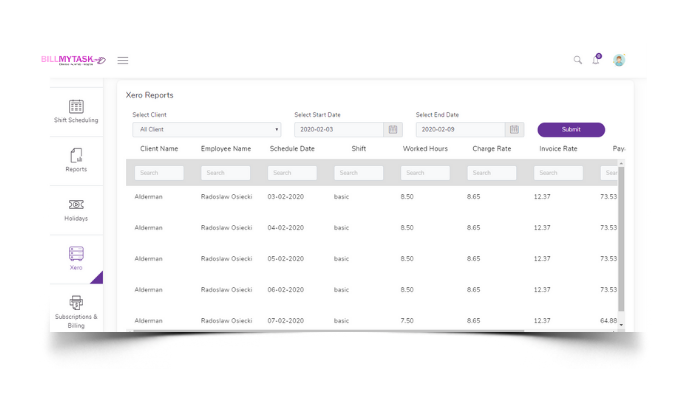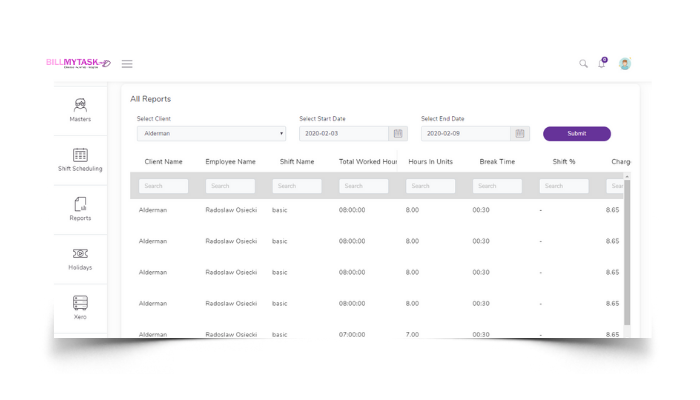 Multiple reports can be generated by BillMyTask:
Scheduled Shifts
Accepted/ Rejected Shifts
Timesheet Submitted/ Pending Submission
Timesheets Approved/ Pending Approval
Payroll Report
Self Bill Contractors and Umbrella Companies Report
Client Invoicing
Margin Analysis
AWR and Holiday Calculation
AWR module helps keep you compliant with AWR regulations. Our simple interface gives you the ability to track AWR clock status, and details of time is recorded in timesheets.
AWR clock is automatically calculated when timesheets are submitted
Track work time, holidays, sickness, industrial action leave, maternity, etc
Receive advance notification prior to permanent status being reached, so you can take early action
Holiday accrual uses HMRC guidelines to accrue holiday pay for PAYE workers, providing you with friendly interface to track holiday accrual amounts and deduct from these when a worker is given holiday pay.
Holiday pay is automatically calculated when timesheets are approved.
Set differing accrual amounts for individual clients, using a pre-AWR and post-AWR rate
Links with our payroll preparation module to calculate employer's national insurance on holiday pay